Maria José Brito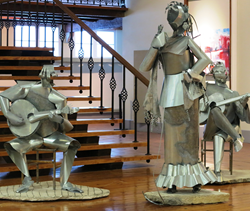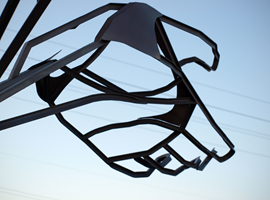 BIOGRAPHY
PhD in Fine Arts - Classic University of Barcelona, and Graduate in Sculpture by the Fine Arts Faculty - Lisboa University. In her professional activity she was teacher in different teaching degrees. Worked in the area of teachers training between 1976 and 2003, as Teacher Coordinator in the School of Education of Setubal.
She held educational functions in General Directorate of Education and she was Professor of Fine Arts Course in Évora University. She gave training and coordinated projects with PALOP (African Countries with Portuguese Official Language).
Is coauthor of textbooks of Visual and Technological Education for the 2nd and 3th Cycles of Visual Education, of Guides and Training Manuals for the PALOP, The booklet "The art in the Kindergarten" for the Education Ministery (2010).
ARTISTIC ACTIVITY
Since 2002 she regularly participates in exhibitions, individually, in partnership, or collectively .
Individual exhibitions
2010 Congress Center of Lisboa - Pavilion
2013/2014 Lisbon Airport (7 meses)
2015 Exhibition Center of the Camara Municipal de Odivelas
In partnership
2008 Cultural Center of Cascais
2010 Marquês de Pombal Foundation
2011 Art Bienal of Paço de Arcos
2012 Galicien Center de Lisboa
2013 Arte Popular Museum – Lisboa
2014 VERA Word Fine Arts Festival – Cordoaria Nacional,
2015 - Palácio do Egito - Oeiras Lisboa
2015 - Casa da Cultura de Setúbal
Public Sculpture
Bronze busts
1985 Caves D. Teodósio's Founder, in Rio Maior
2007 Padre Américo, in Casa do Gaiato de Setúbal
2008 Dr António Fortuna, in Largo Poço Novo, Quinta do Anjo
2012 Casal Garcias , in Fundação, Vila de Rei
Statues
2001 Appeal to reading - stone, in Biblioteca Instituto Politécnico da Guarda
2010 Hand with diploma - corten steel in Escola Superior de Engenharia do Barreiro
2011 St. Francis Xavier - bronze, in Igreja de S. Francisco Xavier, Lisboa
2013 Via Sacra – sandstone, in Aldeia da Quinta do Anjo
2014 Lion's monument - iron in Rotunda da Quinta do Hilário, Setúbal
​